Filter by Category
Project Management
NEST Impact-a-thon
with Monica Gutierrez

Jan 26, 2019 at 9 am
Impactathons are weekend-long events for youth to learn technology purposefully and give back to their community. This is a chance for youth to team up with other youth and community organizations to work on an organizational need and add value to an already valuable organization.
The NEST Impactathon will focus on a social justice issue that youth care about while developing their career skills and furthering the Digital NEST mission to support youth.
This Impactathon will take place January 26th and 27th from 11 am - 4 pm. It is open to all members at the NEST. There are no prerequisites and skills needed to attend. Come out learn technology, connect with youth and give back to your community.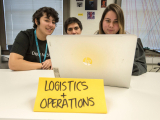 PPL: Events Unit Meetup
with Yazmin Herrera

Jan 22, 2019 at 4 pm
Be part of a team that designs, plans and manages events here at the NEST. Learn how to think critically and manage a project from beginning to end alongside a supportive team. Past events coordinated by this team include holiday parties, game days, fashion shows, and movie screenings. What will your next event be? It's up to you!