Filter by Category
Professional Development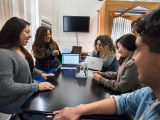 PPL: Launchpad
with Xitlali Cabadas

Jun 14, 2021 at 4 pm

, runs for 10 weeks
We will work together to build all the skills we need to thrive. We'll build  skills we require  to understand our own needs, how to ask for help when we need it and take control of our individual life. The skills to help us understand what our colleagues, clients, and community really need and be able to show them we have what it takes; and lastly, skills we need to understand what is going on in the world and be able to shape our role within our community, family, and ourselves to make a difference.
Attendees of this workshop will be eligible for a raffle prize at the end. They will receive one raffle ticket for every day they attend and complete the day's project. They will have a chances to win more throughout the series. One of the prizes will be a new generation ipad with a pencil and we might have another surprise in store...free stuff AND life skills!? You can't lose!
PPL: Project Management Meetup
with Xitlali Cabadas

Jun 17, 2021 at 4 pm

, runs for 10 weeks
Making an idea come to life is a science and an art that anyone can master. You can develop the skills needed to be able to do that with your own projects and projects that require a team. A little time management, goal setting, team management and planning is all you need and you can start off by coming to this meetup. 
Additional Information: All invited, no experience necessary