Filter by Category
Network Programming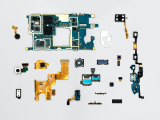 WIT : IT 1 - Tech Squad
with Monica Gutierrez

Feb 5, 2021 at 2 pm

, runs for 11 weeks
Description:  
Join Tech Squad, a team that is dedicated to advancing Digital NEST's mission of providing access to technology for all and helping you break into tech and possible careers in tech. Members in Tech Squad learn entry-level customer service skills as well as essential project management and technical skills to help meet all of our members and staff needs around technology. As a part of Tech Squad, you will also learn to break apart computers, fix them, and put them back together. You'll be able to impress your family and friends with your newfound tech savviness! Most Importantly, you will find an accepting and supportive community that will help you grow and develop high technical skills, and that will connect you to the world of technology. 
Attention North Monterey County Youth - Atencion Jovenes del Condado Norte de Monterey
Please help us - Favor de ayudarnos
Your community needs your technology talents - Tu comunidad necesita tus talentos con la tecnología
Join North County's first Tech Squad  with Digital NEST.  We will train you and you will use your skills to help your community by helping individuals who do not have internet access at home in North County. We will be  setting up hotspots and distributing them.  We will set up a hotline to provide support for those who need tech training and have questions about tech to meet their everyday needs. At the same time, connect with the Digital NEST, learn to troubleshoot your own technical problems at home and make a positive impact on your community.  "Be the change you want to see in the world". 
Additional Information: 
Complete community service hours by working in tech squad
Get hands-on experience 
Tech Squad is like a club membership and not a class. We will be meeting and discussing things frequently.
Full Course