Filter by Subcategory
NEST Community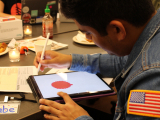 PPL: NESTcorps
with Xitlali Cabadas

Jun 17, 2020 at 5 pm

, runs for 10 weeks
Our community needs innovative-minded individuals like you (ages 14 - 24 years old) to help them during the COVID-19 crisis. All work will be done remotely. We will activate our minds to tackle problems that our community is struggling with
You can gain volunteer hours for your high school and gain workforce experience that will show the positive contribution you've made for the community during this pandemic.
Some projects we started are:
1. Educational videos scaled to the late elementary, middle and high school levels teaching students skills like time management to help them master independent, virtual learning
2. A COVID-19 Santa Cruz County website where members of the community and youth can easily access reasources available along with useful information on how to stay safe while practicing social distancing.
3. Managing social media to market a fundraiser to help undocumented families
4. Bring awareness farmworkers as essential workers
Have any questions? Email x.cabadas@digitalnest.org