Filter by Category
Computer Programming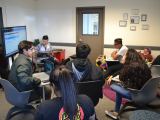 WIT 1: Exploring Web & Information Tech
with Monica Gutierrez

Feb 19, 2019 at 4 pm

, runs for 12 weeks
Create a side-scrolling platform game that is challenging for your friends to play and a web page that displays the high scores- all in one workshop! This workshop explores the fields within our web and information technology career focus area (game development, web development, data, and IT) and how they all relate to each other. You will learn the fundamentals of programming through Python and the fundamentals of creating a web page with HTML, CSS and Javascript.
Beginners welcome!
Will run
WIT 1: Exploring Web & Information Tech (S)
with Franco Sanchez

Feb 19, 2019 at 4 pm

, runs for 12 weeks
Create a side-scrolling platform game that is challenging for your friends to play and a web page that displays the high scores- all in one workshop! This workshop explores the fields within our web and information technology career focus area (game development, web development, data, and IT) and how they all relate to each other. You will learn the fundamentals of programming through Python and the fundamentals of creating a web page with HTML, CSS and Javascript.
WIT 2B: Wordpress Development
with Monica Gutierrez

Feb 1, 2019 at 4 pm

, runs for 9 weeks
Create a website for local clients using Wordpress and gain the skills you need to be hired as a freelance web developer in bizzNEST (our youth consultant firm) during the summer. We will look into customizing themes, creating and customizing plugins, and testing your final product. Design experience is REQUIRED to be hired in bizzNEST in the summer.
Members from Salinas will be transported to and from the NEST in Watsonville. Must fill out permission slip once. Ask Salinas staff for a permission slip. 
Full Course